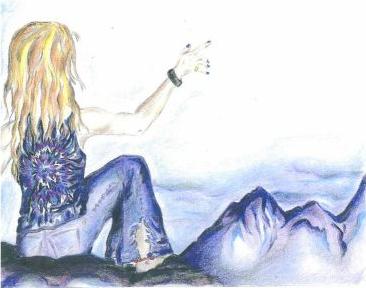 daze.of.grace
Daze of Grace consists of two tall guys and a girl. Family. Sharon Grace Routley, singer, songwriter, and acoustic guitar, Jubal Daniel Routley, electric guitar, and Warren Routley, hand drums and percussion. Their music may be described as ethereal, acoustic rock. Music that takes you Somewhere else.

Sharon is also a painter; all CD artwork was taken from a collection of oil paintings done by her. Daze of Grace loves to meld the two art forms, playing their music in front of a screen showing her paintings, as the songs and painting tell a story together.

Jubal Daniel picked up his guitar at the age of 10 and has never looked back. His playing has been described as ethereal, spiritual 70's vibe rock. It's been said by some that he hears music from Beyond the Blue and then brings it here through his guitar playing.

Warren's hand drums add that great earthy vibe to the music. This bio would not be complete without mentioning our beautiful daughter and sister, Rebekah Grace. Though, due to circumstances, she was nonverbal and riddled with tough times, she taught us all more than words can say. Always smiling, laughing, humming Jesus Loves Me. I actually started songwriting to say what I knew she would say, if she could. So, these songs are for you, Bekah! It makes us smile to know that you are up there singing along.